You discover the Kendama and you want to know more, Kendama France tells you everything!
what is a Kendama ?
Le Kendama is a traditional wooden toy from Japan. Also called the japanese cup, it's a game that consists of catching the ball with the handle, while performing technical and fun tricks. You will understand the Kendama is a skill game.
Appeared several centuries ago, it was in the 2000s that the Kendama popularized in the hands of practitioners of freestyle disciplines such as skiing and rollerblading. The phenomenon is growing and different scenes of players are emerging, mainly in the United States, Canada, but also in Europe. Halfway between play and sport, the practice of this curious object makes new followers every month.

Un What does Kendama look like?
Le Kendama is a wooden toy made up of 2 distinct parts called the Ken and the Tama. The manufacture of this toy is carried out using a wood lathe or a numerical control.
The KEN
This part, related to the handle, is made up of 2 strongly interlocked parts, the Sarado and the Sword.
The Ken has 3 cups of decreasing sizes "Big cup, Little cup, Base cup" and a tip called "Spike".
TAMA
This part consists of a ball pierced in its center by a hole, whose conical entrance is called the "Bevel".
The set of 2 parts, KEN and TAMA, are connected by a nylon string.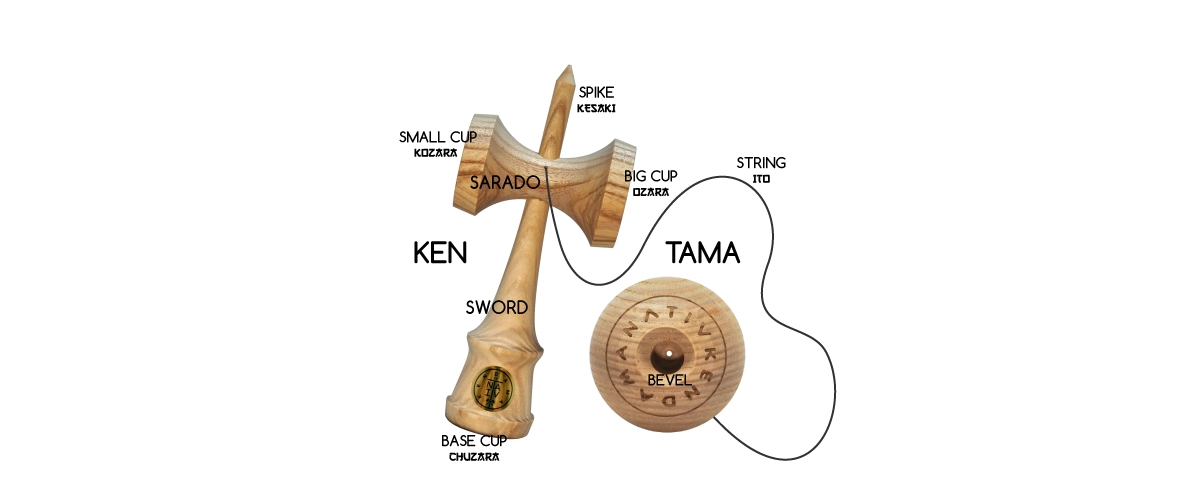 How to play Kendama ?
It is best to start playing Kendama with the handle in hand. The main goal of the game is to make the ball travel on the various cups of the Ken. It is also possible to try to place the ball on the tip. The different ways of holding the Kendama are called the "Grip".
Discover video tutorials "Grips" and "Cupping" of Sweets to make your debut. You will then discover more advanced figures including balances - Lighthouse, Lunar, Birds - and rotations - Kenflip, Juggle -
Thousands of figures exist, which offers the player Kendama a huge room for improvement and an almost infinite creative potential! It is still possible to discover new figures today. Its practice takes time and perseverance but rewards you in satisfaction. Beware of addiction!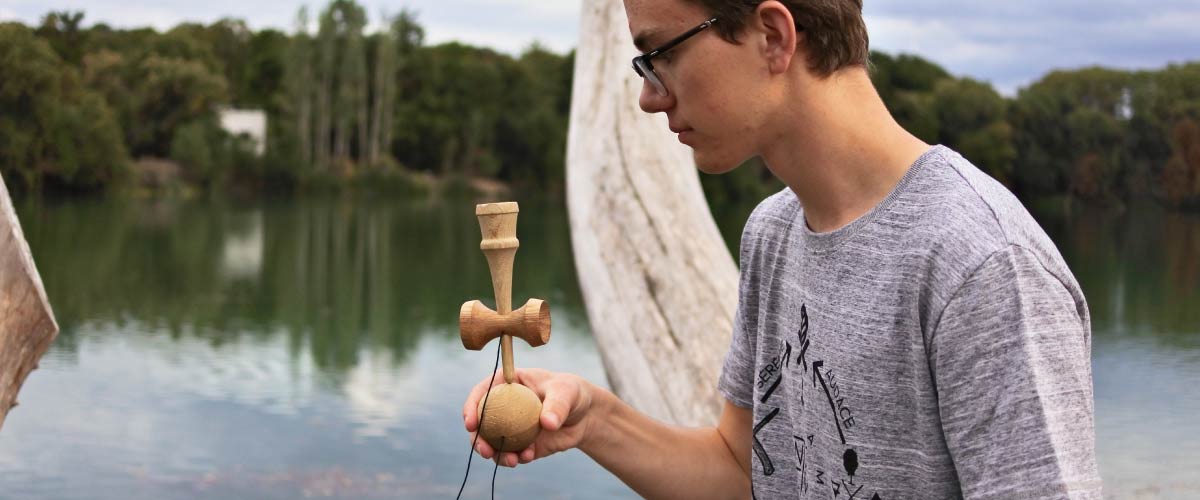 What are the benefits of Kendama?
In addition to being very fun the Kendama makes you feel good! Indeed playing this game increases your reflexes, your proprioception and your hand-eye coordination. Concentration and determination are also required, thus channeling your thoughts on your goal. Success brings satisfaction, stimulates emotions and promotes self-confidence.
The Japanese have understood this well and playing games for children is highly recommended. More than just skill game, do Kendama it is a real complement to life, even a state of mind. We encourage all players to Kendama to develop a practice based on pleasure, creativity and sharing!
Why the Kendama is popular ?
Spread the Dama Love, Kendama change my live, Kendama is a gang… So many expressions that reflect the mentality that emerges from this game! Its "pocket" format has a lot to do with it ...
… First of all because it makes it a very technical game, the reactivity that emerges from the wood on certain movements requires a precise level of mastery. Few are those who tame the animal quickly, behind a good player often hide many months of intense practice. Challenge and progression greatly contribute to its popularity.
…A Kendama can be taken everywhere, to school as well as to parks, parties, and of course travel. This toy has conquered a worldwide community that is widely recognized and appreciated. The many meetings that exist testify to this as well as the marks of friendship that the players maintain among themselves!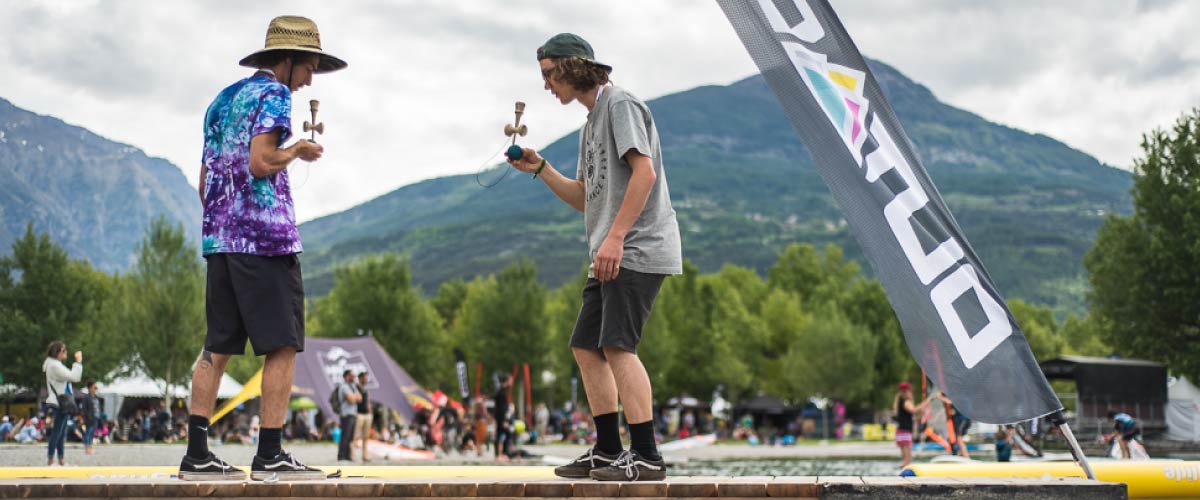 Do Kendama competitions exist?
This young discipline already has several prestigious competitions such as the KWC (Kendama World Cup), Catch & Flow or NAKO. These highly anticipated meetings allow players from all over the world to show their level and compete.
Participation in Open or World Cup type competitions involves making lists of imposed figures in sequence or in repetition for as long as possible. Alone in front of a jury or face to face with a rival.
Freestyle competitions such as Catch & Flow are free services. Within a given time, each player passes one by one in front of a jury which notes it. The player performs a technical and creative demonstration while showing his ease on stage.
Where does the Kendama ?
For those interested here is his story.
You know it now, the Kendama is a wooden toy straight from Japan. Records agree that the Japanese importer, to this day mysterious, carried in his suitcases a French bilboquet. It was the latter that underwent a transformation at the beginning of the 20th century to become this fascinating toy!
It was therefore in 1919 that Hamatsugu Ekusa, an inhabitant of Kure in the Hiroshima region, had the idea to develop the cup-and-ball by grafting two cups. Each of a different size, reminiscent of the moon and the sun, a strong symbol for Japanese ancestors. The handle was revised to provide a better grip and its base equipped with a third cup.
Two years later this toy has spread across the country like wildfire and mass production begins. Hongo Woodworking is the first company to launch in the city of Hatsukaichi. The peak production in Japan will be 300.000 pieces for the best years, being around 1930. It is in a climate of positive energy that the Kendama acquired its unifying, addictive power and found its development.
For the anecdote: at the time of the Kings of France trade was already numerous. And as you may know the cup-and-ball was invented in France and then popularized by King Henry III during his reign. With its return to French soil, we like to say that this game is returning to its origins.
Who are the big players in Kendama?
Several companies contribute greatly to the growth of the game on a global scale, here are the major players in the game:
In Japan
Ozora - Yamagata Koubou / 1973 - Yamagata
JKA - Japan Kendama Association / 1975 - Tokyo
GLOKEN - Global Kendama Network / 2012
U.S.
Kendama USA / 2006 - Portland
Sweets Kendamas / 2010 - Minnesota
Grain Theory / 2014 - Portland
In Europe
BKA - British Kendama Association / 2006 - Bristol
Krom Kendama / 2011 - Copenhagen
How to buy a Kendama?
As a specialist in Kendama we have been working closely with almost all serious market players since 2015. Our ONLINE STORE offer you all the collections of the biggest brands in the world. Each Kendama is taken in high definition photo in our studio to show you the products in great detail.
A description also accompanies each model, the "additional information" tab will also provide you with information on the characteristics. If you have any questions we are of course at your disposal by phone or email at: contact@kendama-france.com