---
Max tested for us the #bolf from home Krom !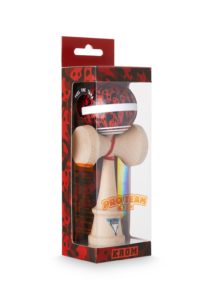 Hey kendama players!

I recently received my new kendama, I named the RolfMod, from the series of Krom Pro, available in 4 models, the BonzMod by Bonz Atron, the only triple world champion, the IJIMod by IJi Dono from Zoomadanke, the FishMod by Jake Fisher, freestyle world champion, and finally my favorite and the one I am going to tell you about talk, the RolfMod by Rolf Sandvigganer, the Danish giant with a unique style.

These 4 kendamas have the new Shape called the 1%. Why 1%? Because they have quite simply "enlarged" the dimensions of the kendama by + 1% compared to that of the Krom Pop. Not a huge difference for me personally, but it still feels a tad.
1% bigger and clearly focused on the lunar rather than the sling. The bigger "lunar balance hole" combined with the LOL Clear makes it a war machine for this kind of tricks !! Unfortunately at the expense of the Slingers who are suddenly very difficult to do .. Always this huge base cup which is a pleasure in lighthouse. Also a good hold in Stalls, a well pressed sarado which allows the tama to land against the ringstall in underbird, very appreciated! Personally, I find the spike a bit fat, so Airplane style tama grip tricks require good precision not to tip wet.

About the RolfMod tama… If I chose this kendama, it is 80% for the tama. I find it beautiful, aesthetically speaking, little pandas in red and black tones, I love it! On top of that, this tama is just perfect for tracking! A big white stripe as well as a triple scope line have their effect! In addition, as said above, the varnish is just on top! Enough sticky for the lunars but not too much either to make up for the loss of balance in Lighthouse! For the moment at the top, to see how the varnish will evolve over time. Ah and small aesthetic bonus, a small engraving of the face of each pro in the big cup, personally not very fan but some will appreciate!

In summary: An aesthetically superb kendama with an "improved" shape (bigger, easier, more accessible) but may not be versatile enough because clearly focused on LUNARS. Despite everything, I recommend it to everyone! Ideal as well for making your first loons or lighthouse as for sending the quad inward backflip 🤘
To your kendamas and above all ... HAVE FUN!