IT'S BACK TO SCHOOL !!!
Take advantage of -20% on the whole shop * !!!
Use the code
>>> SCHOOL <<
The offer is valid from now until Sunday 5 September 18 p.m.
* Code not applicable on new products
Ahh, back to school is always a pivotal moment in everyone's life, students and workers are going back to coal. For many of us this means the end of summer vacation and the return to our routine. So in order not to fall into the monotony of this period and break the codes, Kendama France has decided to offer a back-to-school offer to the whole community!
We offer you a 20% reduction for 4 days on the entire store, valid on our entire product catalog except new products. You will easily recognize new products on our online store, they are those with the green "new" banner.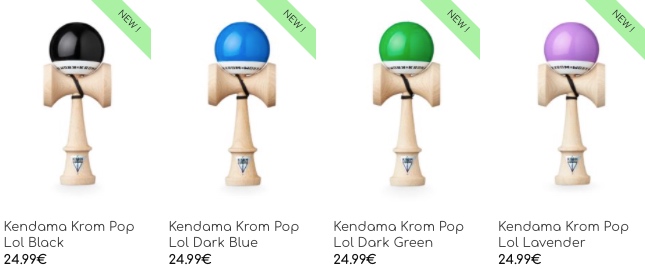 We know that many of you have been trying hard on kendama all summer and that your setup has been chipping. This is the opportunity to offer yourself a brand new model for the start of the school year and make your work or class colleagues jealous! It is therefore from a catalog of more than 200 models that you have the choice to indulge yourself, but hurry it remains within the limit of available stocks and until Sunday September 5, 2021 at 18 p.m.!
How to take advantage of the 20% discount?
Nothing could be simpler, you constitute your basket normally, and you add the code SCHOOL when placing your order, either on your BASKET page or on the CHECKOUT page by clicking on the link: "Do you have a promo code? Click here to enter your code "
Can my K € ns be combined with the SCHOOL code?
Yes quite ! Customers who have a promo code offered by our loyalty program K € ns, can accumulate codes when ordering. You will benefit from a reduction of 10 € (or more if you have several K € ns codes) as well as an additional 20% discount on the remaining amount of your basket. Enjoy !!